The building, is also in the great artist's human formation, place of study influenced the artistic direction of Higashiyama, with the appearance of a western-style octagonal-shaped tower obtained in Germany's concept, which has one underground floor and two ground floors.
The first floor of the octagonal-tower, there is an exhibition room on the right hand of the entrance hall building, and the artist's life is traced in the first floor exhibition room, and the exhibition space that meets the arts extend in the second floor exhibition room. Left side of the entrance there is a multi-purpose room, the shop, and the coffee house and restaurant etc.

1st Floor Exhibition Hall
This section of the exhibition relives the artist's life.
Artist's life is trace by the material surrounding.

Can enjoy a lecture and image material.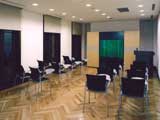 Picture postcards, pictorial records and original goods etc are selling.
For present and memory of visit.
Coffee House and Restaurant
The sun shining through the window, openly and refreshing space
Can enjoy light meal / coffee / tea.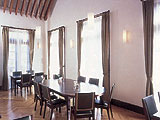 2nd Floor Exhibition Hall
Started from Japanese arts, sketches and lithographs arts etc, that appreciate a relaxed manner and the space assimilate Kaii Higashiyama's world.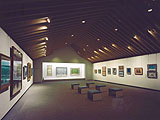 *1                         



Photo *1:Vista JAPAN 廣崎節雄 *2:Sadamu Saito