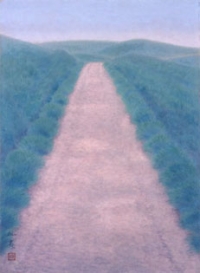 ≪Road(Traial Art)≫
1950 Kaii Higashiyama Personal Exhibition (3-6.7.1950 Maruzen Art Gallery)
Colored on silk/ framed: 57.2×42.0 cm

It was exhibited on the 6th nitten exhibition in 1950 (October 29 - November 28, Tokyo Metropolition Art Museum), the great artist Higashiyama represent his art《Road》as a trial art.
Before war when he went to Tanesasi Kaigan in Aomori Prefecture at that time he took out the sketch and glancing time, in great artist mind to compose the road on an oblong central part of screen, and once again proceeded to Tanesasi, stacked elaborate sketches.
One road goes through the field. In reality the lighthouse stand in front of the scene that was omitted in this art. The artist entrust his image in symbolic world. This is the artist own road that followed so far and at a time he also tried to walk the road.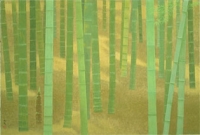 ≪Early Summer≫
1968 Kaii Higashiyama (22~27th November 1968 Matsuya Ginza)
Colored on Paper/ Framed: 88.6×129.6 cm.

Collection of bamboo forest in Yamazaki Kyoto, it is the 1 series of [Kyoto's Four Seasons]. Vertically growing bamboo's trunk and horizontally joint the cut line. Which is slightly swaying and in the screen that brought a strange rhythm. On one side bamboo's leaves were fallen and spread that mix the light and shade realistically where the illusion is floating in the art. Only one bamboo shoot showing the face lately that just looked delicate.
≪Snowy Field≫
1992 The 24th Nitten Reorganization Exhibition
Colored on hemp/ Framed: 106.0×146.0 cm

Snow stuck in wild grass was drawn in this art. This was the view from North Germany. Later year the great artist Higashiyama decided the theme in it's continue series [winter travel]. People own life likening in four seasons and the long journey of its own going to finish in symbolic.

to top